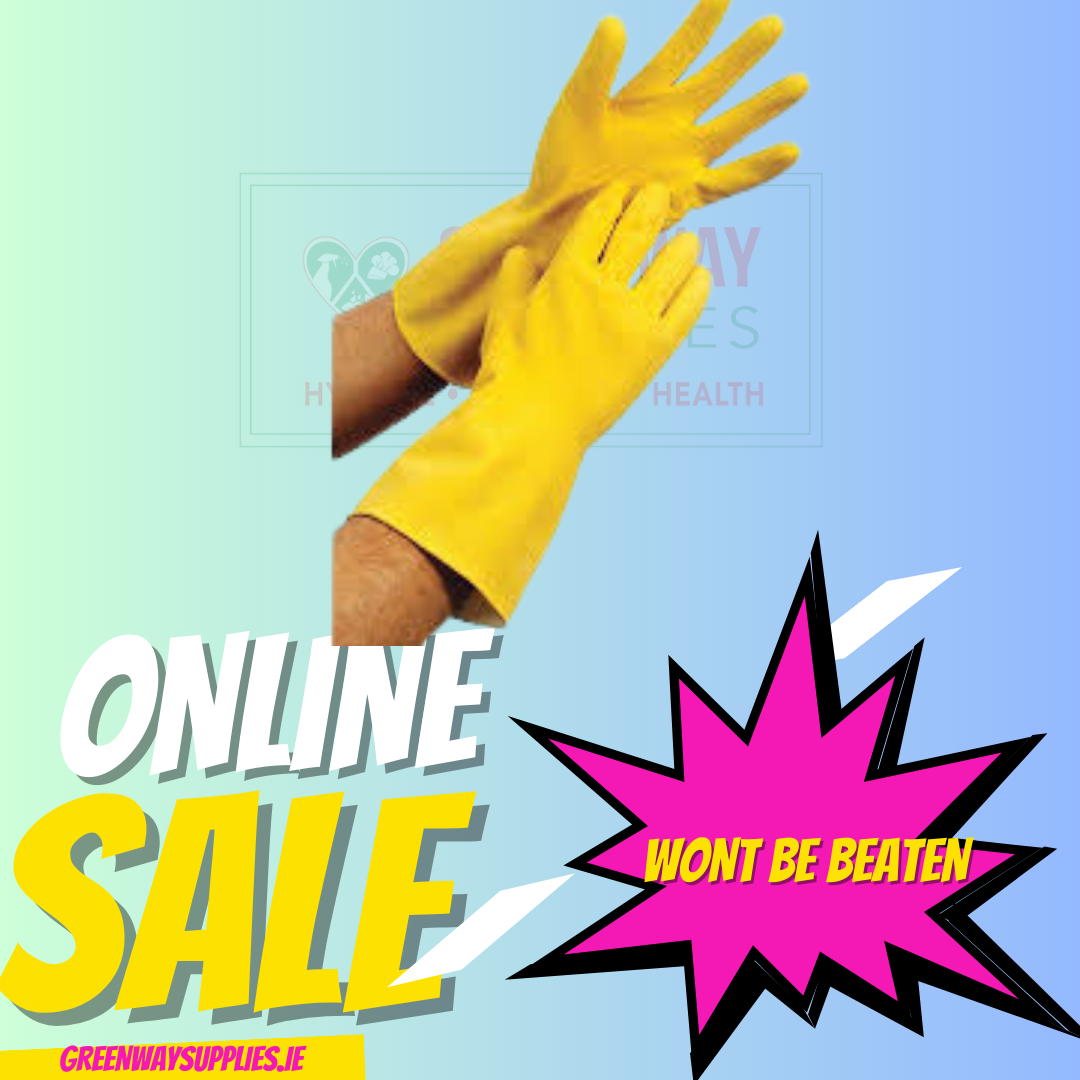 Protect your hands and promote good hygiene with Greenway Catering and Cleaning Supplies based in Kerry. We proudly serve the entire county, including Killarney, Tralee, Listowel, Kenmare, and Dingle on a daily basis.
Introducing our medium, yellow household gloves designed for durability and practicality. These gloves are perfect for commercial environments where regular, heavy use is expected. Whether you're washing up, scrubbing floors, or doing laundry, our gloves will keep your hands protected.
With a cotton-flocked interior, our gloves prevent moisture build-up even in hot and sweaty conditions. This ensures the safety and comfort of your staff throughout their shifts.
In addition to their functionality, our gloves feature a vibrant yellow color that aligns with strict color coding systems. By following this system, you can easily prevent cross-contamination and minimize the transfer of bacteria within different areas of your business.
Our gloves are available in Small size, and we offer other sizes as well. Simply select your preferred size from the drop-down menu.
Product Features:
Material: Latex
Weight: 60g
Color: Yellow
Lightweight latex for comfortable use during lengthy shifts
High-quality latex protects the skin from cleaning products and chemicals
Durable and reusable for cost-effective use
Non-slip, textured palms provide a secure grip on cleaning equipment
Cotton flock lining keeps hands dry during cleaning or pot washing
Extended cuff prevents liquids from entering the glove
Yellow colorway is suited for use in your color-coded systems
At Greenway Catering and Cleaning Supplies, we prioritize the safety and hygiene of your business. Choose our gloves to ensure the well-being of your staff and maintain a clean environment. Contact us today to place your order and experience the quality of our products firsthand.