At Greenway Catering and Cleaning Supplies in Farranfore, Kerry, we take pride in providing top-quality products to meet your catering and cleaning needs. Our daily delivery service ensures that you have access to the items you require promptly, serving towns such as Tralee, Killarney, Listowel, Dingle, and Cahersiveen.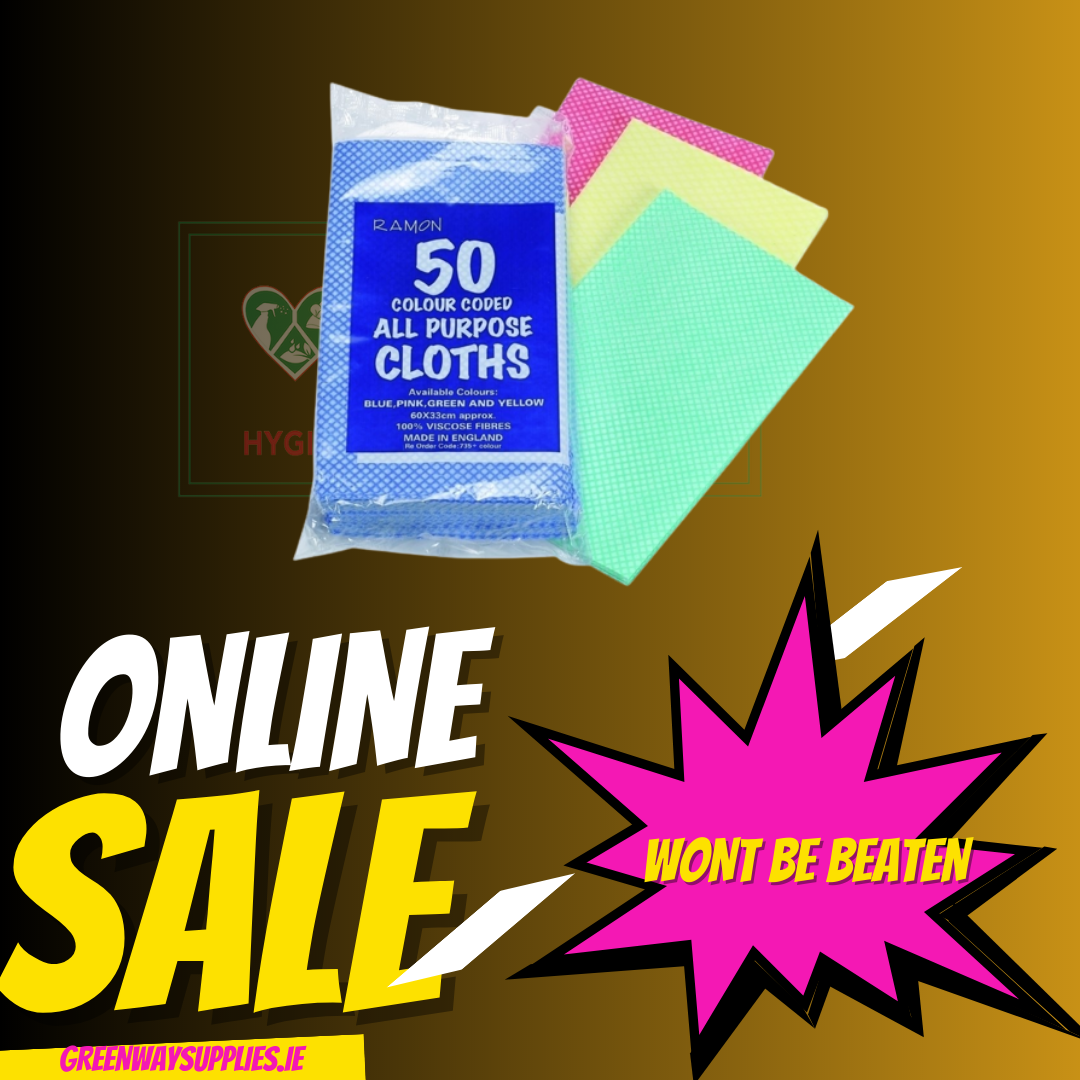 We are excited to present our food-safe Solonet cloths, available exclusively through our online sale. These absorbent cleaning cloths feature a polyester scrim, making them perfect for maintaining clean and hygienic surfaces and dishes in your kitchen. With a pack of 50 cloths, this product is specifically designed to cater to busy catering environments.
The Solonet cloths are not only efficient but also offer additional benefits. Their dimensions of 30 x 60 make them extra-large, providing ample coverage for your cleaning tasks. Made from a blend of 50% polyester and 50% viscose, they offer a great balance of durability and absorbency. The weight of 475g ensures a substantial and high-quality cloth that can withstand repeated use.
To enhance hygiene practices, our Solonet cloths are color-coded, available in yellow, red, and green. This color design allows you to easily differentiate and assign specific cloths for different cleaning purposes, promoting a more sanitary and organized environment.
Rest assured that our Solonet cloths are certified food safe, meeting the necessary standards for use in food preparation areas. They excel in their wiping capability, ensuring efficient and effective cleaning results.
For the best value and convenience, order your pack of Solonet cloths from our online sale today. Click on the link at the bottom to explore this product and make your purchase
Greenway Catering and Cleaning Supplies is committed to providing you with high-quality products that meet your needs, and we look forward to serving you in the near future.